Georgia Job Tax Credit Overview

TaxCredible
·
2 minute read
It may sound counterintuitive, but historically-low numbers of employees can lead your clients to a record-high number of Georgia Job Tax Credits.
Since the Georgia Job Tax Credit became available, TaxCredible has worked with hundreds of companies and their CPA firms to apply for the credit.

In our experience, we've seen businesses qualify for an average of $77,000 with the JTC. That's money to reduce taxes, allow business owners to invest in their people, help recover from the pandemic, and more.
Georgia Job Tax Credit Eligibility Guidelines
The Job Tax Credit is available to a business or to its headquarters engaged in any of the following industries:
Manufacturing

Telecommunications

Warehousing and Distribution

Research & Development

Processing (data, information, software)

Tourism

Broadcasting
Services for the Elderly and Persons with Disabilities
Any business located in the Lower 40 Counties or a Military Zone
Tax Credit Opportunity
Job tax credits range from $750 to $3,500 per new job created for each year and depend on the new job's geographical location. The tax credit is taken over a five-year period beginning in the year that the minimum number of jobs is created. Unused jobs tax credits may be carried forward ten years.

Remember, for JTC, you can capture credit layers going back five years, but you can only amend your prior year's return to capture the credit. It's important to utilize this credit quickly when adding headcount.

Example:
Taxpayer creates 50 jobs in a tier 1 county offering a $3,500 credit; receives $875,000 in tax credits over 5 years [50 jobs x $3,500/job x 5 years = $875,000].
2023 Job Tax Credit Tiers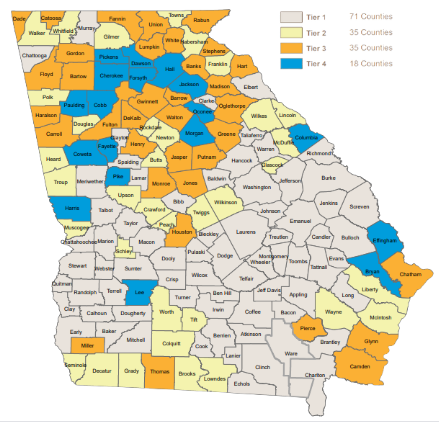 The benefits and requirements for the Job Tax Credit depend on the county where the jobs are located. Each county in the state is ranked annually in one of four tiers:
Tier 1 is the least developed

Tier 2 is moderately developed

Tier 3 is developed

Tier 4 is the most developed & any business qualifies
Businesses creating jobs in the following special zones can receive increased credits (similar to those available under Tier 1):
Designated Less Developed Census Tracts (LDCT)

Opportunity Zones (OZ) - any business type or industry

Military Zones (MZ) - any business type or industry
| | | | |
| --- | --- | --- | --- |
| Tier | Job Tax Credit (For 5 years) | Min. New Jobs | Credit Allowance |
| 1 | $4,000 | 2 | 100% of tax liability - excess to withholding up to $3,500 per job |
| 2 | $3,000 | 10 | 100% of tax liability |
| 3 | $1,750 | 15 | 100% of tax liability |
| 4 | $1,250 | 25 | 100% of tax liability |
Identifying tax credit savings is easier than ever.
Fill out the form to connect with a TaxCredible professional to discuss your company or client's eligibility and savings for tax incentives.